Xmas Card from Christ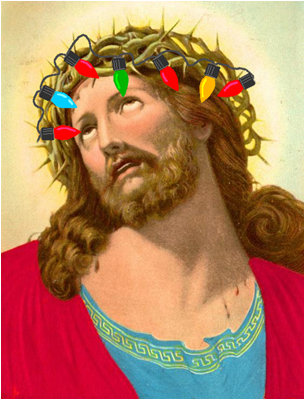 Hey, Happy Birthday - To Me...

Hey, everybody; Hope this letter finds you well. I found the card at a dollar store. I thought it was cute.

It's that time of year again, the sun is at it's lowest point in the Northern Hemisphere and it's time to get to the mall. Sorry for the form letter, as you know I haven't been in touch as much as I'd have liked to this year. Things have been crazy. Well, you know how it is. Oh, and Dad says "hi."

It's been a busy year again. I appeared in various tacos in Central America, a grilled cheese sandwich and a couple tree stumps. And then my mom has to one-up me by appearing in a Chicago Overpass. Man, even at her age she's still very competitive.

Don't worry, even though I'm busy, I'm always listening to your prayers. I might not always find time to grant them all - especially those of you who are about break some Commandments. Especially if it's a couple at the same time! Oh, and pretty much any politician can guarantee that I'm not listening to them anymore. (Larry from Idaho knows what I'm talking about.) I just thought I'd get that note out now, especially with the election year coming up and all.

I just thought I'd write and wish everyone a Merry Christmas. I know that's not as fashionable as it should be, maybe I'm supposed to say 'happy holidays,' and as a Jew you might think it's a little odd. I think it's okay to say 'Merry Christmas' to everyone. You don't even have to be a Christian, you don't have to believe I'm divine. All I'm doing is wishing you well. At the very least, enjoy the day off. Okay? And since I'm on the subject, I think putting a nativity on public property is a little pushy. A church, fine. But for a public place, not as much. it's also kind of embarrassing. It's like when company comes over and your mom pulls out the baby album? Yeah, it's a lot like that.

Anyway, to me this is a special time of year, and I just thought I'd remind you to 'Be as nice as you can to other people'. And then try harder. Stretch a little. Even people you don't like. Actually especially people you don't like, because, come on, if it's hard for you to be nice to the people you like, you're already in trouble, right? That's the important stuff. That's the message I really wanted to get out.

Again, sorry about the form letter, it's just the easiest way to get the message out without having multiple translations and 2000 years muck it up.

Good night and God Bless,
Jesus
Wonderful Counselor.
Everlasting Father.
Prince of Peace.
XOXOXOX